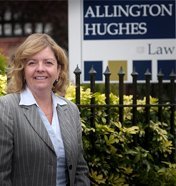 Alison Stace is Managing Director of Allington Hughes, a leading law firm based in North Wales. In this case study, Alison shares how the firm has grown in size and enjoyed its best year of business since she took the 20Twenty Programme in 2017. She tells Wales247,
"The 20Twenty Programme definitely had an impact on my leadership style and helped me learn lots of new techniques which I use every day."
BEST YEAR EVER
Since completing the 20Twenty Programme, Alison has reported financial and operational successes for the law firm.
"The last 12 months have been the best we've ever had, and I put a lot of that down to 20Twenty," she tells Wales247.
In the same year, Allington Hughes has also grown to 80 staff under Alison's leadership. She says, "We have 80 staff now and are growing, which is very exciting for us."
The 20Twenty programme gave Alison the tools to develop her role as a leader. "It helped me to develop new strategies and techniques," she says, "I've already noticed a difference in board meetings and day-to-day in the office."
A POWERFUL NETWORK
Participants on the programme benefit from 1-2-1 executive coaching to achieve their professional goals and develop their emotional intelligence and resilience.
Alison says, "It helps you to become more financially resilient. The coaching and mentoring offered as part of the programme was incredibly valuable."
The programme attracts leaders and aspiring managers from some of the best businesses in the region, with 10% of the top 300 businesses in Wales having completed the programme. The cohort have the opportunity to get to know each other both inside and outside the classroom, making long-lasting contacts to enrich their professional network
"One very important thing was the closeness of the group and the friendships I've made," Alison says, "those connections will always be there."
Whether you're an aspiring leader or an organisation looking to increase growth by developing future leaders/managers, why not attend one of our free two hour taster events to learn how you can benefit from our unrivalled expertise in leadership, management and business growth? Simply click the button above.
Read more…