Jenine Gill, recent 20Twenty graduate and Managing Director of Little Inspirations Day Nursery has been awarded the St David Welsh Business of the Year award 2021. The winner of the Business category was announced on the 24th March 2021 via a virtual awards evening.
The St David Awards are the national awards of Wales and are nominated by the public. The finalists and winners are decided upon by the First Minister of the Welsh Government and his advisers.
The company have been awarded for going above and beyond to ensure that all children have access to quality play and early years' experience.
Little Inspirations was one of only around 10% of childcare services that stayed open during the first coronavirus lockdown. They provided care for 144 families in 6 of their 8 venues during that time to allow parents to go to work. The company provided Covid training for all employees and produced policies and procedures that have been used in other settings.
They provided weekly activity packs for those children who stayed home with their parents and a book donation scheme was introduced and provided around 200 book bundles so that every child had access to reading resources.
During this challenging time Jenine, the owner worked as a nursery nurse to cover employee absence and to help ensure the sites stayed open. Jenine also proactively shared information and support to other childcare services who were nervous about reopening.
Speaking of the award, Jenine said: "I am so happy for us to receive this award after such a difficult year. I was due to complete the 20Twenty course just as the first national lockdown was announced. Initially we were shocked and scared just like everyone else. We took some time to reflect on our figures and numbers and more importantly we took the time to reflect on 'Why?' we are doing things."
"I want to say a huge thank to the 20Twenty team who inspired me to improve and to continue my journey whilst allowing my company to grow."
"This helped us to make the decision to stay open, because the answer to 'Why?' was to provide childcare to people who needed us. The 'How' fell into place later. The training taught me that I needed to lead first and manage later. This inspired staff to want to work and keep the nurseries open.
We have had huge changes to the way we work on a daily basis. The 20Twenty Programme ensured that I was able to managed change. I made the staff comfortable with the changes by involving them in every step of process.  Cashflow training on the programme allowed us to complete paper work and predict where we would need investment and support."
"I had to dig deep and realised that so many people were relying on me to make the right decisions that directly affected lives and livelihoods. The 20Twenty training and coaching gave me the confidence and tools to use in these situations"
"I knew how important communication would be throughout. The programme taught me to lead the changes, be a role model and be creative when solving problems. For example, how to do you bubble children and social distance them? For this, I used colours and symbols that the children understood and was friendly to implement."
Looking To The Future
"Now it's about looking to the future. This year has to be about steadying the ship and next year we will go back to our orbit plan, while continuing the growth of the company and diversifying.
I look forward to continuing to use the new skills I've gained that have saved cost, time and made the company more efficient." Said Jenine.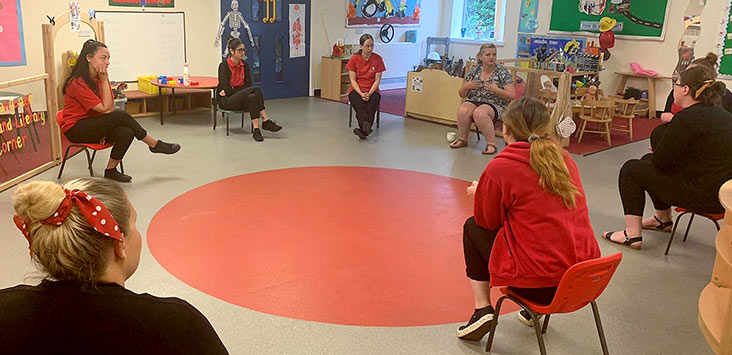 Related Links
The OSCAR Coaching and Mentoring Model