I'm Andrew Robinson, Managing Director of Westward Energy Services Ltd. My role is to manage and oversee the direction of the business, maintain client relationships and complete tenders for new work.
My colleague, Administration Manager, Stuart Thomas, attended the 20Twenty programme in 2019. I was keen to ensure we developed the right skills and experiences in our management team to secure our future for the next 10 years, and beyond.
The programme gave Stuart a great insight in particular into the financial aspects such as the importance of working capital management. This has been invaluable during this crisis.
Agile Working – Working From Home
The changes due to COVID-19 have presented us with some huge challenges. We are specialists in Gas and Oil heating with a range of clients from private households and housing associations to commercial and industrial heating involving high specification contracts. With 5000 breakdown and servicing calls a month, it was a challenge to ensure things continue to run smoothly.
The changes forced us to adapt to a more agile working style. In theory we always knew we could adapt to this style, but it wasn't a necessity until now.
Within a period of 10 days we moved all our staff from the offices to working from home. We managed to do this without negatively impacting any of our client relationships.
Fortunately we had recently invested in new VOIP telecoms systems and upgraded our servers to be compatible. Our IT staff still had to work several long days to make this happen.
We had never used video calls before, so it was a very sharp learning curve – finding the best platform was the first hurdle. After trying Skype, Zoom & Webex, we found MSN Teams worked best for us as well as our clients.
Teams was most reliable, intuitive in the way it works and also works well with the usual MSN Office products. Then, we had to discover and adapt to the new etiquette of video conferencing.
Communication Challenges
We needed to persuade housing association residents to continue to let us into their homes to service their boilers. 'Gas Safe' had confirmed the necessity to continue with annual landlord gas safety certifications.
Residents were confused by the government telling them to isolate at home and yet we were asking them to allow us into their homes to work.
We enabled the clients to communicate clear and supportive messages to the residents and our engineers and staff had to gain new skills in diplomacy. Most of our clients posted social media messages reminding tenants of the need to have their boiler serviced, despite lockdown being in place.
We sourced and purchased the required PPE and hand sanitiser and introduced Covid-19 specific procedures and risk assessments. To communicate this to the workforce we held regular employee briefings which proved useful as a 2-way communication process. This allowed us listen to and act on any concerns the employees had.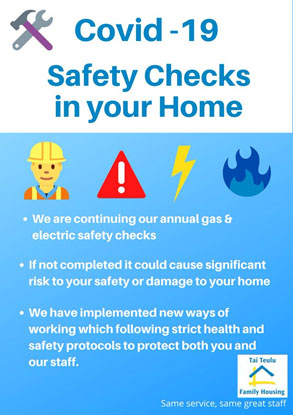 Positive Outcomes
We have now learnt the benefits of 2-way feedback with our employees. Regular employee meetings have helped us to introduce better working practices. This not only improved the level of communication but resulted in a more committed workforce and safer environment.
Our employees now feel more like we are listening to them and information flows are much better within the company.
Increased Flexibility & Reduced Carbon Footprint
It's very likely will be using home working more after this. We can see there are benefits to staff being given more flexibility when they need it as well as when the employer needs it.
We expect to meet less face to face with our clients as Microsoft Teams has shown to be an excellent tool. Not only does it help us to be more efficient, but it's decreased our carbon footprint significantly.
This crisis has proved that anything is possible if you put your mind to it and involve others in the decision making process. We are proud of the way we have handled the crisis and moved to a more flexible, agile style of working in such a short space of time.
Related Links
CMI – The emotional fallout of homeworking, and how to manage it
CMI – A new psychology of work: workplaces in the post-coronavirus era