I'm Sarah Vaile, Founder and Director of Recovery Cymru. I attended the 20Twenty Leadership and Management Programme in 2014.
Recovery Cymru is a peer-led recovery community organisation. It evolved from a single support group for people overcoming substance misuse issues ten years ago.
Our open access recovery centres (one in Cardiff and one in Barry), open 365 days per year are usually the hub of our activity. We were understandably sad and apprehensive when we had to close them on 17th March due to Covid-19.
However, what happened next has been so encouraging and testament to the strength and adaptability of our community, people and model.
Distance Delivery
From 18th March 2020, we continued with 7 days a week open access via distance delivery. We are now running text, email, phone and video 1:1 support, including formal and non formal peer support.
We also run 9 weekly Zoom peer support groups, including evening and weekend provision. We've received good feedback about our social media and online community engagement, which has increased significantly.
For many, it feels as though the ways in which we stayed connected and continue to deliver at the same capacity has re-energised staff, volunteers and members. They responded with a 'call to arms' mentality, motivated by their deep commitment and passion for our peer community.
Our culture of engagement, consultation and adaptability whereby our people are central to the design and delivery of our programmes came to the fore.
I am passionate about the importance of proactively defining, implementing and 'teaching' our ways of working to those involved in an organisation. If people embrace the aims, values and philosophy that underpins the focus and decision making, it creates a culture that everyone is invested in.
On-Line Opportunities
There have been notable and exciting opportunities. Having mooted the potential merits of delivering online and expanding telephone recovery support programmes for several years, we've achieved more in 3 months than we would have in three years in terms of distance delivery.
The lessons learned means we are committed to these new ways of working to increase access and provide options for people who don't want to or can't access the recovery centres.
Recovery Cymru also offer peer support to people who do not identify with accessing 'substance misuse' support and we are readying ourselves to offer support in response to the reported increase in 'Covid' and 'lockdown' drinking in the general public.
We have also developed new and adapted existing staff training, guidance and wellbeing activities for distance delivery.
Increased staff support is critical currently, as well as the need for fun, team connection and maintaining motivation. This will be used long into the future and form part of the business model.
Training courses are being adapted for online delivery, as well as face to face with social distancing in place. Committed to quality, we want these to be of the same standard as people would have received face to face.
2020 is our tenth anniversary year. We have had an immense response to our first virtual fundraiser – being part of the 'Millionsteps Challenge'. We were delighted to sign up 68 participants, including supporters from three local businesses.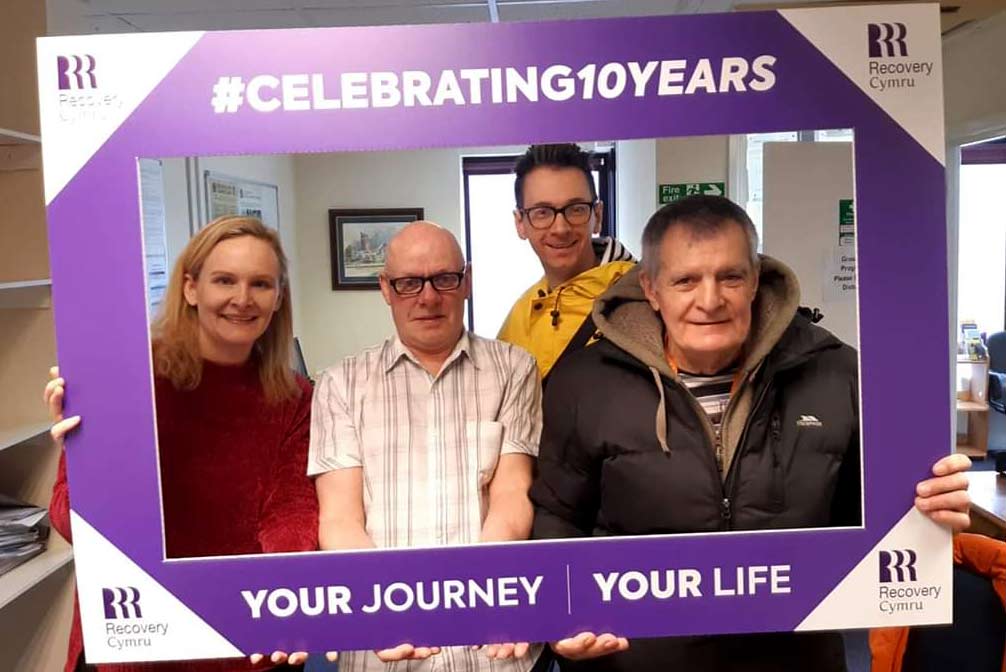 Leadership & Organisational Values
I'm a better leader since completing the 20Twenty Management and Leadership course. Confidence, knowledge, my self-identity as a leader and understanding the difference between management and leadership has been very useful.
Having founded Recovery Cymru ten years ago, I have experienced several 'phases' with steep learning curves. Having completed 20Twenty in 2014, a lot of the learning I rely on has become embedded in my leadership style.
The main skills which have been most useful in responding to the Covid-19 crisis have been those related to leadership styles.
The course taught me the theories behind leadership styles, but most importantly provoked me to better understand myself and my approach.
In times of extreme stress and change, teams are often looking for 'leading from the front' leadership styles. Being visible and available is challenging time wise but I believe is essential. Staff health and wellbeing is not only a moral duty but makes business sense. You get the best of people when they feel valued, respected and cared for.
Paying attention to culture, your organisational structure, engaging and inspiring your team takes time but pays off immensely.
I'm so proud as a small charity we have proved to be so agile, so quickly. This is testament to our model, members, volunteers and staff. I'd like to extend my gratitude to our team who have showed impressive resilience and adaptability from day one of lockdown.
You can hear more about our staff member Andrew Sims' story and Recovery Cymru's response to Covid-19 in the short video below.
Andrew's inspiring story:

"At a time when so many people are reflecting on how alone they feel"

Thank you to @recoverycymru using #NETCoronavirusAppeal funds to continue vital support services.

Donate:https://t.co/QcpwOze9bU@foundationwales #LonelinessAwarenessWeek pic.twitter.com/sXd7sxC709

— National Emergencies Trust – #NETCoronavirusAppeal (@NatEmergTrust) June 16, 2020
20Twenty Business Growth Programme will be offering its flagship level 7 and level 4 courses on a fully-funded basis over the next 12 months.
We are taking expressions of interest for our new cohorts starting in autumn 2020. Please register your interest below, limited places are available.
APPLY NOW
MORE ABOUT THE COURSES
You can find out more about the Recovery Cymru Millionsteps Challenge via the 'RC Community Challenges' Facebook group.