I'm Rachele Garrod, the Training Broker and Project Manager for Four Construction Group, which is a not for profit network of construction companies based across South Wales.
I joined the 20Twenty programme through Construction Futures Wales in 2018 in order to gain the leadership skills needed to guide the organisations I work for through the changes needed to adapt and grow. In 2019 I gained the dual award of CMI Level 7 and a Post Graduate Certificate in Sustainable Management in Construction.
Rising to the challenge
The most critical challenge we faced at the beginning of the Covid-19 crisis was the cancellation of all face to face training and onsite assessment and events – all of which are the backbone of our organisation.
Building on the skills learned on the 20Twenty programme (particularly the Change Management and Innovation modules), I had the confidence and ability to change our way of working very quickly. Before the official lockdown was announced I had put in place a suite of e-learning modules to cover as much of the essential safety training as possible.
---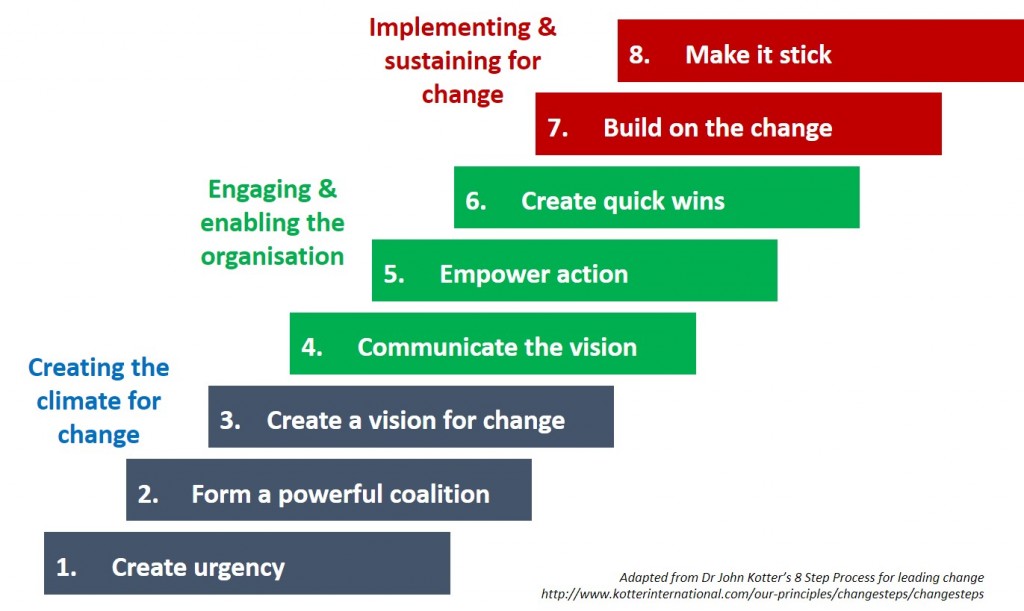 ---
The 8 step process of Kotter's change model (Illustrated above) is one of the theoretical models I have been drawing on a lot. Step 1 was instigated by the pandemic and I have worked through the steps during the current crisis, using my knowledge from the 20Twenty course to implement each step. I'd say as a company, we are now at step 7 and we are also using the coaching and mentoring OSCAR model to coach our learners.
To date we have 180 learners enrolled in our new online school which can be accessed through a smartphone if the pupil does not have a PC. Additionally, I have been able to put the mentoring models used in the programme into practice. I have disseminated the models to project coaches and assessors, which are being used to keep our NVQ candidates and trainee assessors motivated and on target.
---
I don't think I have ever put so much theory into practice than I have this past 2 months. High five to Construction Futures Wales. @2020_Leadership @cfw @CITB_Wales @cardiffmet #CITBFunding #ChangeTheGame #InnovationForEveryone pic.twitter.com/s2ltI0LfF0

— Rachele Garrod – Four Construction Group (@fourconstruct) April 28, 2020
Leadership skills for the future
The extreme global changes that are affecting everyone, in every type of business call for quick action and the ability to adapt, pivot and innovate at a faster rate than before. I am extremely grateful to have been able to take part in the 20Twenty programme which gave me more change navigation tools than I realised at the time.
I would recommend the programme to all managers at all levels. The skills you will gain have been critical in the current climate and will prove invaluable in responding to future challenges.
---
Related Links
Kotter's 8 Step Process For Leading Change – Ebook
CMI – better managers webinar – learning during the COVID crisis
CMI – how to maintain your personal development in a crisis