The Creative Leadership and Enterprise Centre (CLEC) at Cardiff Metropolitan University has celebrated the achievements of another 23 Welsh SME leaders. They are the second group of businesses at Cardiff Met to complete the 90% funded Help to Grow Management course.
The Help to Grow course at Cardiff Met is exclusively for business owners and senior leaders operating in small and medium-sized businesses, and who are keen to grow their organisations, improve their leadership skills and access mentoring to give their organisations a competitive edge.
Chris Davidge is General Manager at Peter Jones ILG, an Abergavenny-based company that manufacture industrial leather goods. He took part in the course to develop his skills further and focus on key areas of the business. Chris said:
"I've already recommended the course to internal colleagues. It's been a great help. Help to Grow has helped us to develop new ideas. It's allowed me to look at those in more detail and adapt them into what we're doing."
"It's the mixing with different business leaders in different industries that gives you new ideas and allows you to think outside the box.
"We've been on a couple of different journeys as a business. Looking at our branding, our action plans, and our staffing and culture.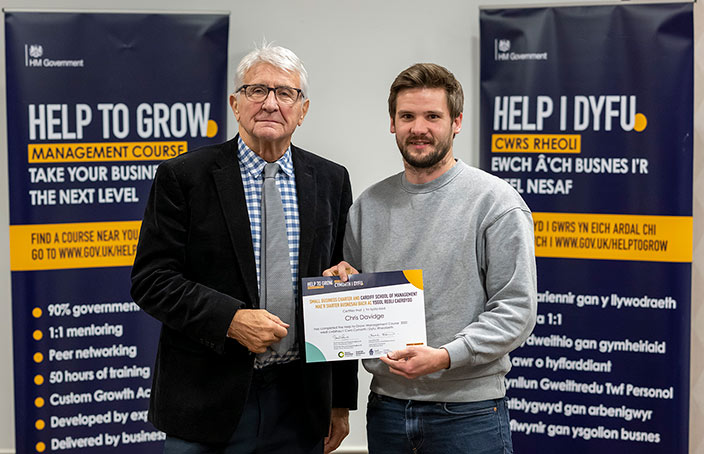 Above: Professor Brian Morgan (Left), Help to Grow Participant Chris Davidge (right)
What is the Help to Grow Management course?
The course provides 1-1 mentorship and world-class training for leaders of small and medium-sized businesses.
Delivered by Cardiff Metropolitan University and accredited to the Small Business Charter, Help To Grow Management offers 1:1 business mentoring, and the opportunity to improve your business's resilience. The course provides decision-makers with lessons that have an immediate impact on their business and allows them to learn from other business leaders and managers.
The course costs just £750 (worth £7500) and is 90% subsidised by the UK government.
Designed to be manageable alongside full-time work, you can take part around your existing work commitments and access learning through a blend of short online and face-to-face sessions.
Business growth strategies
Becky Harford is the Director at Benthyg Cymru, Wales' Library of things, which benefits communities across Wales through a network of items you can borrow cheaply and easily.  Becky said:
"The best bit of Help to Grow was having the peer groups afterward. To be able to take what we had learned the previous day and discuss it openly with people, and learn from and bounce ideas off each other."
She added: "Help to Grow has given me an overview of what we need to know to grow as a business. We're a very young business so it's been excellent to have an overview of what we need to think about and what to prioritise going forward."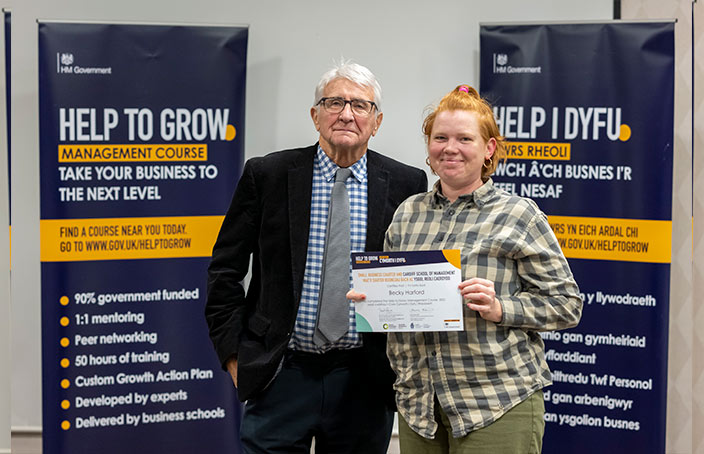 Above: Professor Brian Morgan (Left), Help to Grow Participant Becky Harford (right)
Professor Brain Morgan, Director of the Creative Leadership and Enterprise Centre, said:
"Our second cohort of businesses came from across Wales and represented a huge range of sectors, including social enterprises, manufacturing, hospitality and professional services.
It's an excellent opportunity for businesses to meet and learn from each other and get the help they need to address today's economic challenges, whilst at the same time growing their business.
After they graduate from the programme, Help to Grow continues to support these business leaders through a series of events based on a thriving alumni network."
A sense of purpose in business
Vanessa Molloy, Brand Manager of Super Rod in Blaenavon, attended the course to step back from the day-to-day work and focus on business growth and development. Vanessa said:
"We didn't know what to expect from the Help to Grow Management course but it didn't disappoint.
"In a very busy day-to-day environment, it's hard to stop and reflect on things we should be doing. This course forced us to think about the business differently, and helped us prepare for the future.
"The biggest takeaway for us was to clearly define our sense of purpose as a business, something that was always there but that simply needed to be spelled out.
"Having two members of the management team with different skills and expertise doing the course has been exciting and a real advantage to discuss actions and take the business forward.
We feel that we have the foundations to grow the business and personally grow as leaders by taking our employees on the same journey."

Above: Help to Grow Participant Vanessa Molloy (right), Help to Grow Participant – Sam Horseman (Left)
Supporting businesses at Cardiff Metropolitan University
Help to Grow is just one part of the support that Cardiff Metropolitan University offers to local businesses, which includes a range of professional leadership and management courses such as the renowned 20Twenty Leadership Programme, The Executive MBA, research collaboration, Knowledge Transfer Partnerships and opportunities to work with our students.
Professor Brian Morgan added:
"An important aim of Help to Grow is to involve firms in innovative activities that help them expand sales while also keeping abreast of new developments in their sector.
Offering participants the opportunity to continue their relationship with Cardiff Met through the alumni network, ensures that business growth remains a priority for them going forward."
You can find out more about the Help to Grow Management Course at Cardiff Met University and register for the next course below.